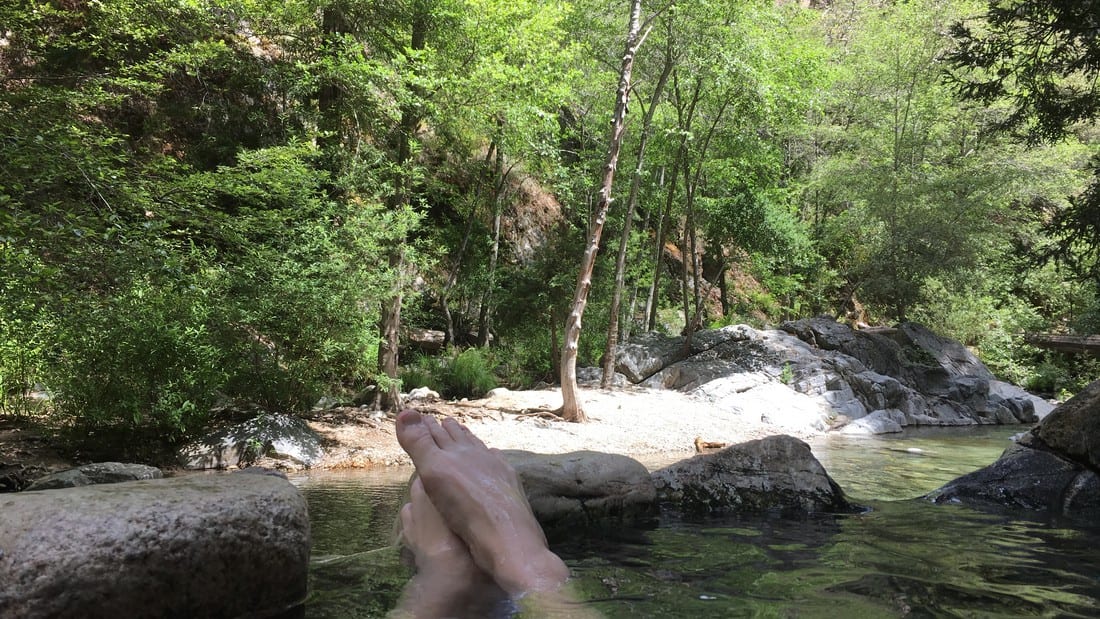 06 Jul

Sykes Hot Springs

Sykes Hot Springs, WOW…Jodi and I are preparing for our 2016 John Muir Trail hike by doing some gear test runs to see if we have what we need for…THE BIG ONE. We took three days during the middle of the week and went to Sykes Hot Springs in Big Sur, California for our first test. It proved to be a beautiful, challenging, rewarding and an eye opening hike.
"Tough times never last, but tough people do. Robert H. Schuller"
Parking $5.00 Per Day (cash only!)
No Hiking Permit Required

20 Miles Round Trip
Rated Difficult
John Muir Trail Shake Down Hike #1
We carried just about everything we were going to carry on the John Muir Trail. We must of looked funny with full backpacks on. Well…We weren't the only ones with full backpacks. Some people had HUGE backpacks. We didn't have the full nine days worth of food we will be carrying on some parts of our trip…and I'm glad we didn't. We still need to get our hiking legs.
Surprise!
I was caught off guard with how grueling the hike was…even at a low altitude. I quickly realized I needed more muscle work for those sticks just below my buttocks. As Mark Verber put it…"The hike starts at 400 ft elevation and hits a maximum of 1500 ft, but over the course of the hike we climbed approximately 3000 ft and descended 2000 feet." The hike is roughly a 20 mile out and back. The trail was well marked and clearly well used. There are several spots on the trail that required careful traversing to accomplish safely. I was surprised that California didn't have an OSHA approved guard rail for some precarious areas. If you took your time…you were fine though. Another surprise was the proliferation of Poison Oak…it was everywhere! To be a good shake down we needed to feel the lack of oxygen from the altitude. I tried to convince Jodi that we could stuff our mouths full of cotton to simulate how hard it will be to breath at altitude…she wasn't going for it. The parts I struggled with were different than my wife. I struggled with the downed trees across the path because trying to bend my 6'4" body low enough, without tipping over to get under the tree, was my biggest challenge and it was her comedy show. Jodi struggled with the trees laying low across the trail and trying to get her little legs over the top without toppling over. I'm not sure who was the funnest to watch…me…Chewbacca trying not to tip over and face plant or Jodi with her Yoda legs (compared to mine) trying to hop over with dignity?
What Decision Point?
I really wanted to reach Sykes Hot Springs on the first day but I also realized we needed to listen to our bodies. There are some key decision points along the trail. The first landmark is Ventana Camp Trail. It seemed to take forever to get there…you know…it's just around the next bend but really about 4.2 miles in. Terrace Creek is roughly the 5.5 mile mark and is beautiful place. We stopped to eat and I soaked my feet. We encountered our first and really only mosquitoe attack here. We decided to keep going. After another mile…mile and a half (sorry…I had to put that in there) of fairly nice hiking we reached Barlow Flat. We looked down the steep hill to the campsite, took a deep breath and said…let's press on…you know…we only have about 3 miles to go. In my opinion, this was the hardest 3 miles. Others in my group felt the first few miles were hard…I'll let you duke it out with them. IMMEDIATELY after the Barlow Flat sign we began the death climb…opposite of the death spiral, I mean…how long can you climb? We finally made it up and then down to the Big Sur River crossing leading up stream to Sykes official campground.
Which Way To Go?
The official Sykes Hot Springs camp is across the river and to the right. We were told the best sights were to the immediate left hiking down stream toward the hot springs. We chose left and found several prime spots…already occupied. The occupants were kind enough to tell us there were many more further down…so we willed our feeble legs to continue. We had to do some rock scrambling right off the bat. My first observation is that this is the trail everyone is going to use…at ALL hours of the night…to get to the hot springs. I was not disappointed. We did find a good camp site but it left few options for going to the lieu. How do you deposit your stores when you can't get 200 feet away from a water source…unless you have some climbing/rappelling equipment. We managed…but the signs of non-burying, non-leave no trace toilet paper were everywhere…I mean…everywhere! (Ventana Wilderness Alliance…recommends using the potty at least 20 feet away from water sources for Sykes)
Sykes Hot Springs
We knew the hot springs were down stream and the trails branched out everywhere. It sounded simple…just walk down stream until you smell sulfur. It seemed to take longer than expected to get to them. At one point in the trail you will need to scramble up a steep AND narrow path. Instead of tackling that precarious path I chose to walk in the river and join the trail when it came down on the other side. It was a wise decision. The first spring I came upon was for two people??? Or maybe just my feet. I followed the well worn path upward leading me to the upper spring. It was great and I slowly descended into warmth and comfort. I closed my eyes and let the sound of the mini waterfall and the warm water soothe my well worn body and mind. There was a couple in the larger spring below. It is right next to the river. After about a half hour they left so we climbed down to it, along a perfectly placed fallen tree. The water was much warmer and it was deeper too. I liked this one the best! The next day we came back and had the upper spring all to ourselves…I certainly enjoyed the quiet personal freeedom of our sanctuary…for maybe 45 minutes. When the lower spring became free…we moved down there for some warmer soaking. Oh how I love soaking at Sykes Hot Springs!
The People That You Meet
I've never been disappointed with the type of people I meet on a hike. OK maybe there is one couple…that I was disappointed in. Todd and I passed their camp at Lake Penner…and their unleashed little dogs…I call them ankle biters…bit Todd's ankle. (It wasn't funny then…but it is now!) So…back to Sykes…Jodi and I met Kimberly Lexow while she was spending time at Sykes Hot Springs, with a close friend. Her enthusiasm was infectious. She told us about the company she and her business partner Jess Legges started a few years ago. They make amazing lunches for employees who are tired of going out for the same old thing. Many companies hire them to take care of their employees. Sifted is expanding but not in this area yet…but keep your eye out for them and visit their website: www.sifted.co  As they say at Sifted…"Cheers to a brighter and better lunch"…Now I'm hungry! I only wish I could remember her friends name…they were the awesome type of people you would expect on the trail. Everyone we met at Sykes Hot Springs seemed to just enjoy nature and we shared in her peace and tranquility. Hikers/backpackers rock!
Heading Home
Alas it was time to go home. We packed up with ease and started our journey. I thought it was going to be as rough going out, as it was going in to Sykes Hot Springs…but after a few miles my legs picked up a nice rhythm.  I shouldn't have been surprised…but we seemed to pass about 100 hikers and 14.5 dogs heading to Sykes. I'm glad we were outbound on Saturday. We stopped for a break again at Terrace Creek Camp. I followed the signs to the toilet and to my amazement it was a wooden box out in the open with a lid. No doors, windows, walls or curtains with flowers…just lovely clover ground cover all around and some really nice wild flowers too. Sitting there you had a great view of the campsite down and to the right. I thought it would be funny to drop my drawers, sit down and call out…HEY…Can you SPARE a SQUARE? (I didn't…but wish I did) As with every hike the last mile just seems to take forever but we shaved almost 2 hours off of our inbound time.
Family Time!!!
I'm really a lucky man! My wife and my daughter hiked with me and we also had a family friend hike to Sykes Hot Springs as well. We had a good time together and had some good laughs too. My daughter is finishing up her art degree at UC Davis and spent a great deal of time sketching. I'm always impressed with her artwork. Jodi and I shared time with our daughter. We are soaking up our time together, growing closer each and everyday, something that was made difficult while serving in the Air Force for 30 years. We all enjoyed our family friend Ben and his enthusiasm for life. He has experienced more than most in such a short time and was fun to be around.
Contemplative
Although Sykes Hot Springs was a gear shake down for Jodi and I, as we tackled the challenges of Pine Ridge Trail it is amazing how these struggles can cause reflection of past struggles and how we've overcome them. Just like this hike…life is strenuous, full of surprises and decision points. Whether hiking or living life we are stronger together and more than capable of going farther than we thought we could.
Big Sur Deli
After our long hard hike we stopped at the Big Sur Deli. I had a standard roast beef sandwich. Jodi and Cassandra had a Hot Reuben Sandwich… Thankfully they shared with me. The Hot Reuben Sandwich hit the spot.
Thank you Big Sur Deli!!!
47520 Highway One, Big Sur, CA 93920.
Phone: 831-667-2225. Fax: 831-667-0446.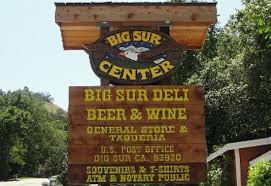 Lessons Learned On This Hike:
Didn't bring quite enough food…or we shared too much with others
IPhone does not float…get a proper case…and a new IPhone…!?
Backpack Logistics needs work…for what goes where
Too many clothes…taking the swimsuit off the list and adding my birthday suit
My backpack still weighs too much…see above. My pack weighed 37 lbs with water and I figure we will add 2 lbs per day for food…ummm…that will be…a…public math working overtime…plus 5 more days…times 2, equals…yeah…yeah…10 more pounds. 47 POUNDS!!! WHEW!!
A friend on our Iva Bell Hot Springs hike said to me: "Ounces equals pounds and pounds equal PAIN!
Author Profile
Retired military loving being Freee in the great outdoors!