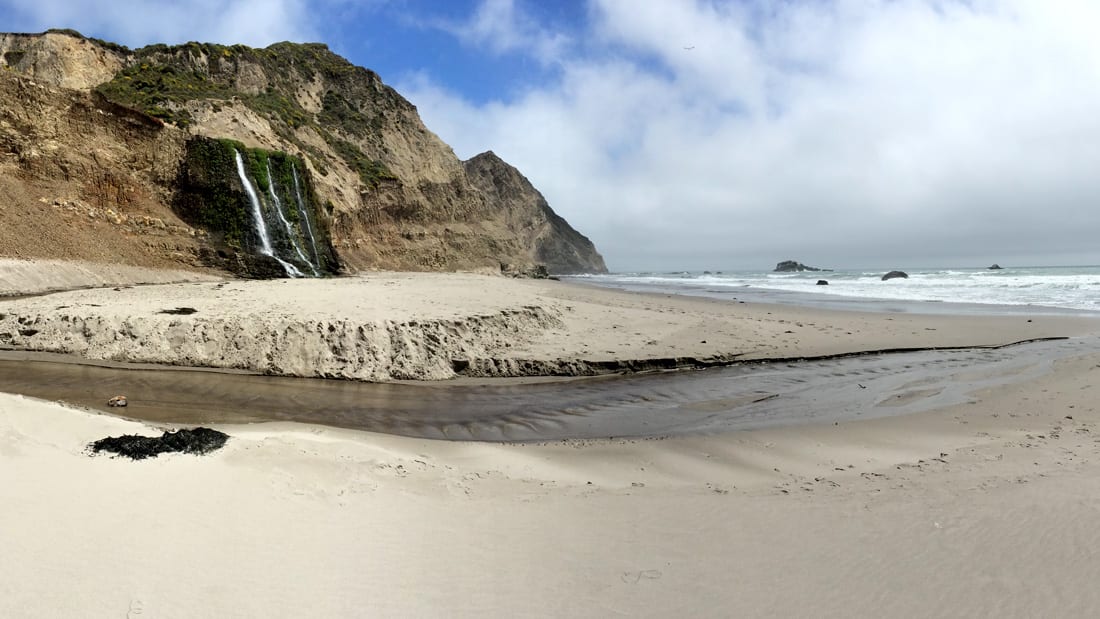 10 May

Point Reyes National Seashore

When my family needs to get away…our first thought is Wildcat Campground at Point Reyes National Seashore in California. It is just a little over an hour north of San Francisco and a little over two hours away from our home. My wife and son discovered this amazing retreat back in 2008 when they went on a backpacking trip with the Air Force Outdoor and Recreation Center…ever since…we've made it a tradition to go to Point Reyes!
I only went out for a walk and finally concluded to stay out till sundown, for going out, I found, was really going in. John Muir
Free Parking RESERVATIONS NEEDED TO CAMP
The Hike
It is a moderate 5.5 mile hike from the trail-head to the campground. It usually takes us three hours to reach camp. The first two miles are on a well maintained dirt road. Halfway through the hike you start a little climbing on the dirt road that opens up into a meadow. We usually take a break here and use the bathroom one last time before we get to camp. We hike maybe another mile before we come to a walking bridge. We take another break here…this is when the hike will get a bit more strenuous. In my opinion it is the best part of the hike because of the scenery. As you start to head back down hill you meet up with another dirt road. We take a quick pause here as well before we start the last two miles or so down to the beach. Just off to the right are some amazing meadows an amazing fern garden. Keep your eye open for some mule deer too. This road seems to drag on forever. As soon as I see the ocean you get all excited only to be reminded of how small I really am…and how far I still have to hike. It is like the never ending road…you can see the ocean but you never get there…or so it seems. When it's time to leave…the hike out will be a challenge. We always take a break at the top by the water tower. This climb is not overly difficult…just long…another never ending road.
Wildcat Campground
Wildcat Camp is located in an open meadow on a bluff overlooking the ocean with a short walk to the beach and a 3.2 kilometer (2.0 miles) round-trip walk to Alamere Falls. It is a 10 kilometer (6.3 miles) hike from Bear Valley or an 8.8 kilometer (5.5 miles) hike on the Coast Trail from Palomarin with access to Bass Lake. The only bicycling route is via a strenuous 10.7 kilometer (6.7 miles) ride along the Stewart Trail from the Five Brooks Trailhead. There is running water with two vaulted toilets (glorified out houses) Some of the camp sights are for groups and one is designated for people with horses. Sites 1, 2 & 3 are the group sites that can be reserved for groups up to 25 people. Sites 4 can take 6 people. Sites 5, 6 & 7 can only have 4 people and site 8 can have 6 people and it comes with a handy dandy hitching post. (If you choose site 8 and don't have a horse….you will still smell the horses that came before you.) Something we learned by accident…if you don't reserve both A & B in the group sites…someone can show up right next to you and be your new camp buddy…Yippy! Our last trip we finally were able to reserve site 7 and we now know why it is hard to get…what a great spot. We also like site 2 and site 3. We haven't tried the others…but I'm sure I would not prefer site 1 unless I was in a big group.
The Falls
On our first full day at Wildcat we will hike to a tidefall. Before I started blogging about Point Reyes, I didn't know what a tidefall was so…here is what I learned today from the world wide web. Tidefalls are waterfalls that flows directly into the ocean and are quite rare. My internet search revealed there are only six tidefalls in North America and two of them are located here in California. Alamere Falls…here in Point Reyes and McCay Falls in Big Sur at the Julia Pfeiffer Burns State Park in Monterey California.
Now after breakfast we pack a lunch and take an easy one mile hike south to Alamere Falls. It is truly amazing to look up at the nearly forty foot waterfall crashing to the beach, creating a small pool before it finds its way to the ocean. I like to cool off in the crisp water coming over the falls. Looking up at the falls you see green plants cascading over the cliff as water flows through and around them. Although from the beach you only see part of the waterfall. Just about 20 yards north of the waterfall is a trail that will take you not only to the top of the falls you see…but to three other falls that make up Alamere Falls. Personally I found going up to the falls a challenge but coming back down the trail a bit troublesome (scary) without a friend to lend a hand. I wouldn't attempt it alone. (note to self…don't try to climb up to the falls with flip flops again)  Although the climb can be tough…I go up to the top every time. Sometimes a day is just not enough for the falls. On the way back you can either go back to camp by hiking on the beach or you can hike back on the trails above the waterfall. (I'd make sure you have a map though). I hiked back on the trail once. It was worth doing once because of all the bluffs over looking the ocean and there are little lakes that you can checkout too…but it also takes longer and in the summer it can be quite hot.
The Beach
On our second full day Jodi and I will typically go north on the beach and just lay out all day, reading, painting and beach sort of stuff. If you go far enough north on the beach you can have your own private world to be as freeee as you want to beee, (hint, hint…no tan lines). The beach is just amazing! If you like picking up sea shells…your in the right place. If you like making sand castles…there is lots of sand and space to do so. After dinner and the sun has set you may feel up to hitting the beach for a little beach camp fire…to do camp fire sort of stuff…you know, talking, telling funny family stories, laughing, making S'mores, laughing, drawing back on a good cigar or pipe, singing, and…lots more laughing. (why do all the stupid things you did in the past seem to come out around a camp fire….hmmm). During the day start collecting the appropriate US National Park Service approved wood…you'll get the quick education when you sign for your fire permit. Pick out your US National Park Service approved spot and start rubbing some sticks together…cause your in the great out doors!  (I use a lighter too). Be mindful…it is first come, first serve for firewood and location.
The Bluff
I'm not sure what it is about the bluff…but we like to go up there and lay in our sleeping bags or sit in our ultra-lite hiking chairs and just look! I love laying there looking out over the pristine beach below…about 40 feet. We will go up to the bluff and eat breakfast and take an after breakfast nap. We will go up there after dinner and watch the sunset every night. I am amazed at how different the sky looks every night. Just like the camp fire it is a place were we talk, laugh, and listen…and because we usually have our sleeping bags…there's some cuddling going on too. There always seems to be some type of musical instrument that will appear and then…ta dah…music and singing starts happening.
The Critters
From the bluff I like to watch the hillsides for deer (AKA black tailed deer or mule deer). They sometimes walk through the camp sites and graze around the area. The baby quail are a quack up to watch, they run over each other trying to get out of your way. The little moles are digging holes everywhere and they don't mind digging under your tent either and how could you not love the baby rabbits… On the bluff you will see harbor seals looking for food, pelicans diving into the water taking food from the seals. In 2015 I saw my first whale in the ocean!!! The bird life is plentiful with more than fifty different species. The vultures like to glide along the bluff catching the up draft, many times flying right over your head, seemingly within arms reach. In 2014 at the mid point bathroom break on the trail we saw a bobcat wandering the area. That was exciting! Every year we see people riding horseback on the beach and sometimes camping at Wildcat in the horse designated camp sites. Watching horses is a special treat for Jodi. (now you know why I like to horse around)
The Reward
After we leave the National Seashore we head straight to Point Reyes Station and have pizza at Cafe Reyes. We each get our own thin crust wood fired pizza and we have never been disappointed….wait…yes we have! They are closed on Monday's and Tuesday's….we showed up when they were closed…TWICE! We now actually plan our backpacking trip around when Cafe Reyes is open…it is THAT GOOD. Thankfully the owner and employees don't seem to mind when we come in a little…smelly…after several days without a shower.
Just thinking about Point Reyes puts a smile on my face. We really do have some great family memories there. It is a great place to explore, relax and just soak up the sun.
Some of things I loved about this trip:
Alamere Falls…of course | Falling asleep on the beach listening to the ocean and waterfalls
Going north on the beach to enjoying some personal freeedom
Laying on the bluff with my family and friends, watching the amazing California sunsets
Pizza and a beer at Cafe Reyes!
Author Profile
Retired military loving being Freee in the great outdoors!