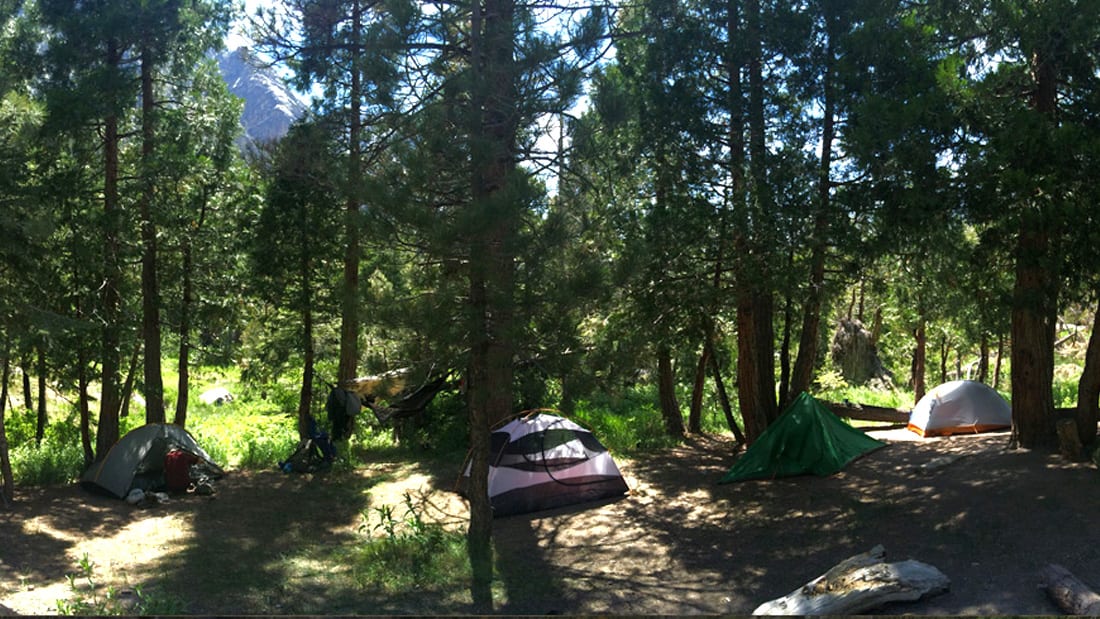 17 May

Iva Bell Hot Springs

Iva Bell Hot Springs, Inyo National Forest was an exhilarating hike. I left from Red's Meadow Mammoth Lakes, California with some friends. I pressed hard to get ready for this trip. After my disappointing performance at Telescope Peak a few months before…I kicked up my cardio workout. This hike wasn't going to have the altitude Telescope Peak had…but the 13 miles vs 7 miles had my attention and so did Iva Bell Hot Springs.

In every walk with nature one receives far more than he seeks.
John Muir
26 Mile Round Trip
Permits Are Required

Diverse scenery, be mindful of water sources, sun exposure and wind
Rated Moderate
The Gathering
We arrived the day before the hike and car camped near the trail head.  It would've been hard to drive the 5+ hours to the trail head and then hike 13 miles.  I picked up some snacks and a beer from Red's Meadow Resort and we downed our hiker meals. I brought some potatoes and eggs and fried them up for breakfast. Naturally I made more than I could eat and shared. My kindergarten teacher Mrs.Sundale would've been proud.  How can I remember her name, when I forget so much?
The Mental State
I was mentally prepared for the trail and I was not disappointed with the level of difficulty. I was also mentally psyched about Iva Bell Hot Springs and I wasn't disappointed either…in fact I was really impressed! Now the longest hike I've done in many years, before this one was a 7 miler.  I'm still learning how to reduce my pack weight as well.  I can't remember my pack weight…or…is it I'm too embarrassed to say?
The Trail
Out of the gate I could hear Rainbow Falls…it sounded pretty close but it was not on our plan to divert there. The trail was easy to follow with rock lines and signs guiding the way.  This was my second trip out with the Inreach Explorer.  I'm still figuring it out…but we were on track.  We walked across some amazing and huge rock mountains.  There were several streams flowing down the mountain and beautiful seasonal waterfalls. Water on the trail was plentiful. Soon after we left the the rock trail we came across the fire decimated area. The trees were gone and the ones that did stand were crispy sticks. I am amazed at how the scenery changes as I hiked and the views of the valley below were amazing.  We crossed paths with several Pacific Crest Hikers. Their thin bodies, tattered clothes and odoriferous emanations were clear indicators of their objective.  They were heading to Red's Meadow for some…freshening up, food and beer. At about the 7 mile mark there is an out cropping providing a breathtaking panoramic view. Why didn't I take a picture?   After a few miles we finally reached the dreaded switchback. The view of the river below helped distract me from my knees. We finally crossed the bridge with about three miles to go.
The Break (one of many)
I can't remember what time it was…but food was definitely on my mind.  I found a shade tree and quickly consumed my meal. I was so sweaty from the hike I stripped down to my boxers to dry out my clothes.  I took a short nap but woke suddenly to about a million ants…ok maybe 20…crawling all over me.  I must have looked funny beating myself with my sock to get them off.
The Trail Again
We started the last three miles and it followed the river on our left. I was the slow one and everyone knew I wanted them to go ahead…when I lagged behind.  It seemed to take forever to get there.  As I started climbing another mountain and slogging my way up the switchbacks it only took me about 20 minutes to see I was off course according to my Inreach Explorer…I missed the junction.  It was back down the hill near the river.  As I grumbled down the hill another person was cruising up the trail… He was sweatier than I was.  He stopped to take a breath and I told him I missed the Iva Bell Junction and was going back down.  He did the same thing…grunted, turned tail and headed down just as fast as he came up.  When I reached the bottom, one of my hiker friends was waiting for me.  I'm glad he did because I wouldn't have found the campsite for awhile.
The Campsite
We had a large flat area with a row of trees.  On the other side of the trees a large soggy meadow.  We had primitive fire pit and some large rocks opposite the trees to dry our clothes.  A creek flowed on the other side of the large rocks down the hill and eventually paralleling the trees.  There was room for 5 more tents and we had 5 and a hammock.
Iva Bell Hot Springs
Just 25 feet from our campsite was a hot spring and it was very secluded.  I wouldn't have found it unless one of the guys showed it to me.  It was large enough to fit all six of us.  The soothing sounds of a cold water spring tumbling down around the hot springs sidewall was mesmerizing. The cold spring is where I drew and treated my drinking water.  There was another similarly sized hot spring about 30 yards away, as you look towards the valley.  It wasn't as warm but it provided a much more scenic view looking up at the mountains.  On the east side of this spring was a large rock formation that blocked the afternoon sun. There are several more hot springs with amazing views of the valley and sunsets.  The group I was with went to the other hot springs.  It was an aggressive hike to get to them.  Well worth the trip though. I was really content with the two next to camp.
So…
When I finally arrived to our Iva Bell Hot Springs camp I was spent. I put some food in my face, set up my hammock, washed and hung my sweat soaked clothes. There were only two things I wanted to do.  Hot Spring and sleep.  I took off the last of my threads and melted slowly into the hot spring. The water was crystal clear.  It had a solid bottom and you could feel the hot water push up through the ground on your feet.  Sometimes I had to move my feet when they got too hot.  The stars…well you know what stars look like on clear nights without any light pollution…just…WOW!  I stayed in the water until I was waterlogged and the stars were in full glory.  Then into my hammock I fell.  That's the last I remember until morning.
Zero Day!
I slept like a baby and woke to the sun, birds and the smell of someone making coffee.  I did a body inventory and I was all in one piece.  I heard the group talk about hiking UP the mountain to find and soak in the other springs.  I decided a zero day is what I needed. They all left and I was in my zone.  All alone, hot spring and hammock with total freeedom! That's all I did, Iva Bell Hot Springs, hammock, eat and repeat. I knew I needed to let myself recover from the hike in.  It turned out to be a wise decision. The group came back later in the afternoon. They had a great trip as well, met some people and talked about the different springs they saw.  We all ate a dinner and did what hikers do well…took another nap.  We soaked and talked, talked and soaked.
The Hike Out
It was going to be another beautiful and warm day at Iva Bell Hot Springs and on our hike out.  I decided to get up real early to knock out the switchback before the sun's rays really started heating up.  I left with another hiker about 6:00 AM.  I was amazed at how much faster we completed the hike out compared to the hike in.  I think we knocked 2 hours off our time.  The switchback early in the morning was surprisingly easy.  Eventually the group all caught up as we took water breaks.  I just missed a bear sighting.  A bear was clawing on a tree and when some of the guys stopped the bear saw them and headed for the hills.  I wish I would've seen it.  When we were about two to three miles out we started seeing some of the weekend day hikers.  You know…HUGE walking sticks, flip flops, no water, very large knives prominently displayed on the belt.  Don't laugh…that was me too! I'm mean hey!!! They are out and about…  The last two miles seem to last forever…  The car was a welcome sight and so was the trip back to Red's Meadow where I eavesdropped on stories of REAL hikers on the PCT and the JMT…and suck down some beer.    This is a trip I will do again.
How did your trip to Iva Bell Hot Springs go?  I would love to hear about your experience.
 Some Facts
I didn't set the Iva Bell Hot Springs trip up but here are some links to help with your adventure:
Inyo National Forest Trail Map
Recreation.gov Link to Fish Creek Trails
Some of things I loved about this trip:
I did not follow the group and really enjoyed my time alone
Soaking, soaking and soaking
The changes in scenery from one area to the other
Meeting like minded, free spirited and widely different types of people
Author Profile
Retired military loving being Freee in the great outdoors!