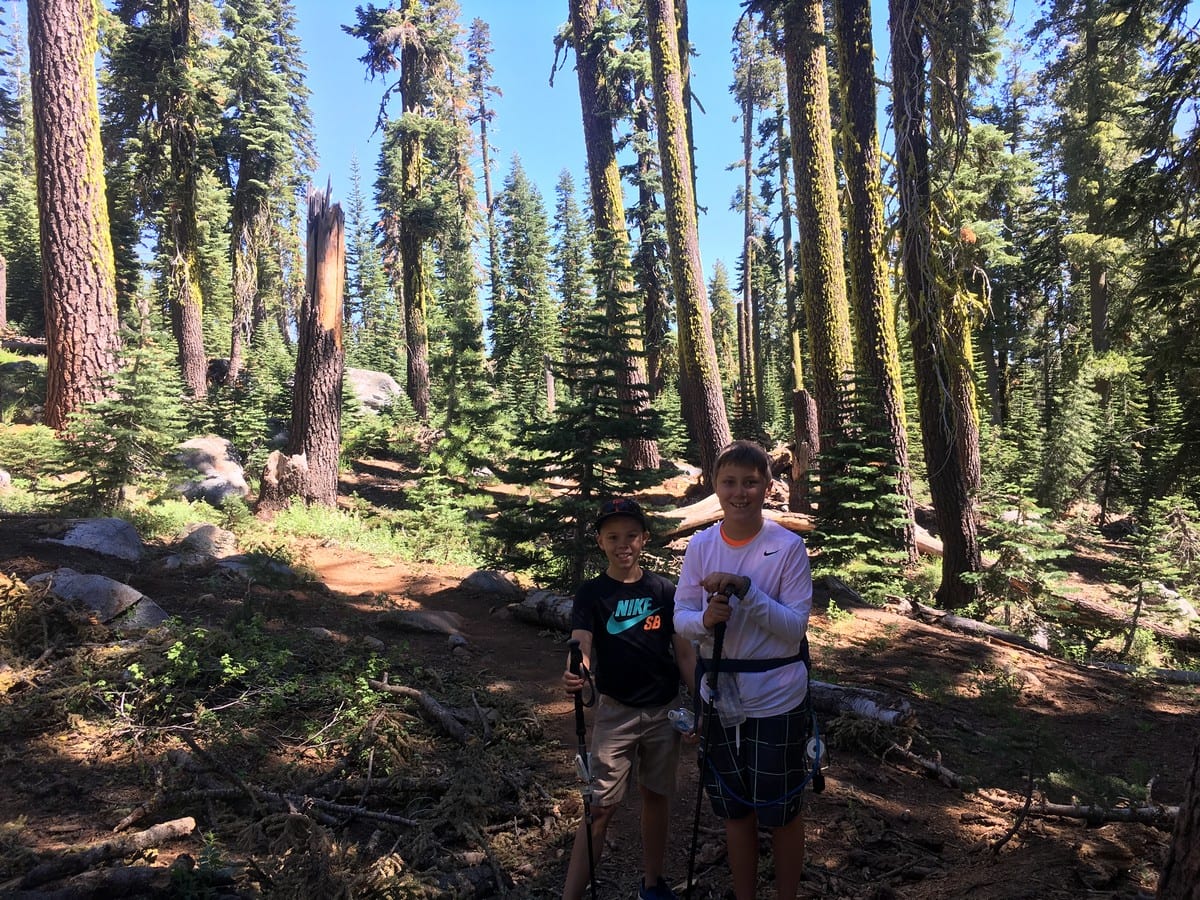 15 Jul

Family Backpacking at Island Lake

I made a promise to two of my nephews to take them on a big adventurous backpacking trip. We set out on a 3-day trip and filled it full, with a day hike to Lake Penner, swimming at Island Lake, hammocking and arguably their most favorite thing…fire making! I wasn't sure what it would be like to take two 10 year old boys on a 3 mile backpacking trip. It turned out to be a challenge and an adventure…all in one.
A little progress each day adds up to big results.
The Hike to Island Lake
We really wanted to hike 3 miles to Lake Penner but as the situation rolled out…Island Lake would be our base camp. When we arrived at the parking area it was full of cars. I was a little disappointed because I really like being alone in the wilderness…even if it is with two ten year olds. The trail was in good shape. There were several new downed trees across the trail and the trail next to Freely Lake had tree roots exposed by the snow melt run off.  These roots demanded my full attention to ensure I didn't face plant. When we reached Island Lake it was spectacular. We found a campsite at the far end of Island Lake. It had a fire pit, some logs on rocks for a bench to sit on. There were lots of trees to hang our hammocks from and I love to swing. We were just 20 yards away from the lake and the water was not too cold so we cold swim. It was so refreshing.
Day Hike to Penner Lake and Beyond
Since we didn't make it to Lake Penner we decided to make it a day hike. We had three objectives on our day hike. Reach Lake Penner, hike to the top of the mountain overlooking Lake Penner and Lake Culbertson and finally check out the waterfall coming from Lake Penner. We achieved two out of three of our goals.
Lake Penner was exceptional as always. The water was much colder than Island Lake. There was only one couple camping at Lake Penner. We soaked in the view and started heading for the mountain.
The mountain doesn't have a name. It reaches 7,262 feet in elevation. It took us about 30 minutes to reach the top. We found the 360 view worthy of the climb. There isn't an established trail leading to the top. You just have to wonder your way to the top.  A pleasant surprise awaits you at the top. Not only is the view astounding someone took the time to make a little wind break with some rock seats in it. It felt primeval.  We were able to get three bars on my iPhone so the boys called home. We took some pano pictures and scrambled our way back down.
We decided to save the waterfall trip for another day and headed back to our Island Lake camp.
The People That You Meet
As many of you know, I go backpacking to get away from people and I prefer to be alone in the wild. When I do come across people, they are normally of like mind as well. I have found that 99.99% of the people are kind and friendly. On this trip there were a lot of cars in the parking lot but the people were well dispersed so you didn't feel like they were right on top of you. When we arrived a group of about 15 boys were being herded out of the parking lot for what looked like several days of fun. I didn't see any of them in 3 days. As we hiked in we came across several couples and two families returning from their adventure. When we reached Island Lake on our first day there was a very small group camping on the peninsula and another small group on the north side of the peninsula. On our day hike we ran in to two young adults, jumping off the cliff into Lake Penner. They planned on being out there for what sounded like a week. I was envious.  On our way back, on our last descent I saw about 20 teenage girls being guided by a handful of adults coming up the trail. We decided to stay put until they passed us because the trail was not wide enough for two way traffic. I gathered from one of the adults, they bring a group of 13 year old girls out here every year. All the people's paths we crossed were so friendly.  The wilderness is just a great place to be and to meet like minded people.
The Reward
I enjoyed spending time with my nephews. They each had their own personalities that added to our adventure. What I enjoyed most…when we reached camp the first day I didn't tell them to do anything. When they said…"I'm hungry", I replied…"What are you going to do about it?" From the beginning they purified their own water, boiled their own water for food. They cleaned up after dinner, set up the tent and their hammocks and started our campfire. I believe they enjoyed the freedom to do what they wanted to do. (With appropriate supervision) I simply laid in my hammock and watched the comedy show. The night before we left we sat around the campfire and I had the best time telling them what they did right and what they could improve on. It was mostly positive. I told them how proud I was of their hard work. When we finally packed up, they were diligent to leave no trace behind.
What a gift it was for me to spend this time with my family.
Ursack (Bear Bag)
I used my REI annual dividends to buy the URSACK S29.3 All White Bear Sack
I have to tell you on the John Muir Trail last year (2016) I found a love hate relationship with my bear can. I was determined to get a lite weight bear sack. Now in Tahoe National Forest there are black bears but in the five years I've hiked it, I've never seen a bear or any signs of a bear, scat, tracks or such…until last year when I took my nephew on his first backpacking trip. Just as soon as I turned my truck onto the dirt road this big old black bear tore across the road running for it's life away from my truck.  Great…I assured my sister, it would be safe!
On this trip I took the Ursack. I really missed my bear can chair but I didn't miss the extra weight. Now I had to find a tree to hang this thing in.  How many strings tied to rocks did I have to throw into the tree to hang my sack? I will never tell…I won't tell you how many times I almost hit myself with the rock I was threw either. Make sure you read the directions
Once I got the Ursack lines hung everything else went well. I still missed my bear can seat.
The all white one looks great at first but all white does not mix with dirt very well.  It washed up nice though.
I don't know…I will see how I feel next time whether I will take my bear can/seat or the Ursack.
Pro's
Light weight (big pro)
Spacious
Con's
Finding a tree to hang it on because critters can chew through the bag…but bears can't
The white sack got dirty immediately
It's much easier to get a bear can and retrieve food than it is to hoist the sack up and down a tree several times a day
I'm not a sponsor for this product.
Shady Ray Sunglasses
I purchased some new Shady Ray sunglasses that I wanted to put through the ringer. On my John Muir Trail hike I wore Ray-Bans and they worked great. I've had them for years and the lenses were pretty scratched. When I hiked I would have a problem with them fogging up by my eye brows and they just didn't stay well on my face.
I saw a Shady Rays ad on Facebook and their warranty caught my eye. They have a life time warranty against breakage. They will also replace them if you lose them. I thought this was too good to be true so I read their return policy. It was true. If I lose my sunglasses, they will replace them. (Up to two times).
I'm hooked!!!! $45.00, life time replacement guarantee and sharp looking shades…what more could I ask for. I've dropped them several times and they stay secure on my face without being tight on the side of my head.
Pro's
I like the fit form and function
They stay on my face
I really like the price!!!
Con's
I'm not a sponsor for this product.
Author Profile
Retired military loving being Freee in the great outdoors!