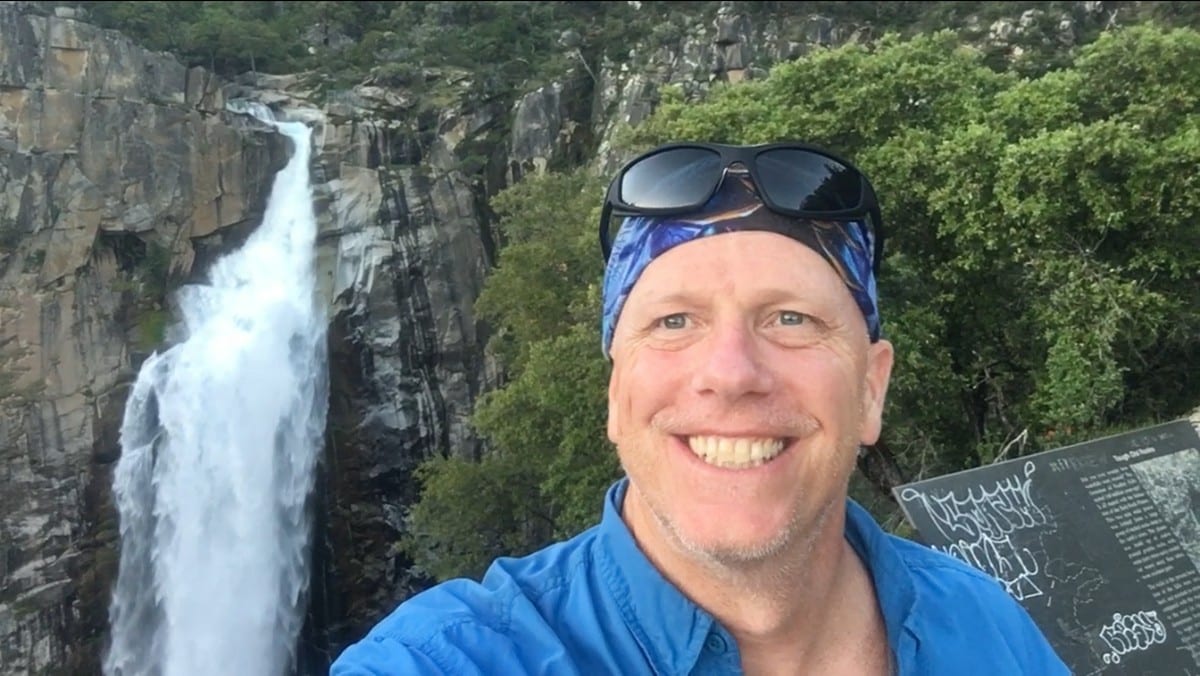 14 Dec

Feather Falls Solo Backpacking May 2017

Feather Falls is one of my new winter hiking locations. During the winter months snow and very cold temperatures can put the brakes on my backpacking. With an elevation of 1,920 feet I won't have to worry about snow…just rain and the cold temperatures. I'm already looking forward to my next Feather Falls solo backpacking trip.

For this post I made two videos, one showing highlights of my backpacking trip and the other shows nothing but me walking on the trail. The second one is a bit long and I will upload it next week. I hope you enjoy this fun little adventure and are inspired to go on an adventure yourself.
As long as I live, I'll hear waterfalls and birds and winds sing. John Muir
No Permit or Reservation Required
3.5 Mile Strenuous Loop
4.5 Mile Moderately Difficult Loop

The Hike
Feather Falls trail is about an 8 mile loop. Within the first few minutes of the hike you will reach the loop junction. The upper trail to the right is a 4.5 mile moderately difficult hike. The lower loop to the left is a 3.5 mile more strenuous hike. Feather Falls is located on the Fall River, a tributary of the Middle Fork Feather River, within the Plumas National Forest in the Sierra Nevada mountain range. At the trailhead there are several first come first serve camp sites, vaulted toilets and a spigot for water. There is plenty of parking and the road is well maintained. Depending on when you go, this trail can be lightly trafficked (weekdays) or heavily trafficked (weekends). On one portion of the lower trail a small landslide has taken part of the trail. You will have to precariously scramble around the landslide to continue on. Some areas you will walk across logs or rocks as the trail is a creek or…is the creek a trail? There are several benches along the trail to sit and take in the view.  When the two trails meet the trail begins to climb up and to the left until you reach a lookout with a breathtaking view of Middle Fork Feather River. Just a little bit further you will reach the observation deck. This is where you will get the best view of Feather Falls.
Two Notes…this area does have bears (although I didn't see any) So use appropriate measures to ensure your safety…like rubbing a hot dog all over your hiking partners backpack and clothes…or not.  Also once you pass the junction where the two trails meet…there is no more opportunities for water unless you hike past the observation deck towards the top of the waterfall.
Feather Falls
There is a little bit of controversy regarding Feather Falls. Most literature you will find states Feather Falls is a 610 foot water fall.  It is also considered the 4th or 6th tallest waterfall in America and the 2nd tallest in California. According to the World Water Fall Data Base the fall measures around 410 feet. Regardless of the documented stature this waterfall is quite impressive. Feather Falls is a perennial stream flowing all year long. The water volume is at it's peak between January and June. During this peak a cloud of mist can be seen from Lake Oroville.
The observation deck is well maintained and has plenty of bench seating. If you would like to see the falls up close, hike back to the trail and turn left. This trail is pretty well traveled. Soon you will start seeing several minor trails to the left leading down to the waterfall.
Let me do a little safety spiel here. There is poison oak everywhere, the trail to the falls is not maintained by the park. If you fall into the water above the falls you will likely die because there is no place for you to get to shore. You can get dangerously close to the drop off and California has not done any work to protect the careless or the stupid. There is an area with a chain link fence that provides a pretty safe look out and the view is overwhelming.
Primitive Camping
Other than the trailheads vaulted toilets, water spigot and many streams on the way to Feather Falls you are on your own. Above Feather Falls there are several established camp sites. Well…when I say established, I mean you can clearly see people have created very…very well worn areas to pitch a tent. Several are right along the waters edge on your left as you hike, with lots of trees to hang a hammock. After you pass the first obvious sites on your left there is a clearing with a lonely dead tree and a small fire pit. To the right of this clearing up on the hill is a nice spot for several tents. From the dead tree the trail veers off to the right and up a small hill following the river on your left. There are several site opportunities as you hike. Eventually the trail is less used and more difficult as brush has over grown it. 2017's rainy season was big and water flow was well above average. There were many log jams and many areas showed signs of flooding. Feel free to go as far in as you want to achieve the most solitude. My first day, I bypassed the observation deck and searched for a really nice established site about a mile up Fall River from the falls. I set up my tent and hung my hammock. As soon as camp was set…it was hammock time.  Most of the sites I passed were tree covered, including mine, so when the sun went down the chill moved in. I was surprised how loud the fast moving river was. It created a nice white noise for sleeping.
A Slice of Heaven
I spent four days and three nights without seeing a single person (passed the waterfall) until my last day. As I was walking to the upper portion of the water fall a solo hiker was laying in a clearing in his bikini briefs catching some sun. I don't think he expected to see anyone either. He was on a break from teaching and recharging his spirit. Earlier that morning another guy was boonie stomping searching for a site for he and his wife. They were going to stay a few days as well. I truly enjoy being alone in the wilderness. It recharges my mind, body and soul.
My first day I headed back about a mile or so to the top of the waterfall. There were many trails leading down into that area, so I just picked one. Oh…did I mention poison oak is everywhere? I followed the meandering trail until I came to these huge rocks. It was clear I was close to the falls because it was really really loud. I kept following the water until…there it was. The river just disappeared over the edge. There was only one safety fence. I climbed down to it. The fence formed a walking path like a hallway. The path was about five feet wide and 20 feet long and the fence was about 7 feet tall. I felt safe inside the fenced area but the power of the waterfall was wondrous. I just sat there for the longest time. You could see for miles.
I left the fenced path, found a warm rock to sit on and watched a bunch of butterflies dance around a small puddle of water. I was memorized.  I decided to head over to the observation deck. It was about a 1/4 mile hike from the top of the falls. The view from the deck was equally powerful. I had the place to myself. I took in every inch of that view. I welcomed the refreshing mist as it was a very hot day.
I wondered back to camp a sweaty mess so I took the opportunity to wash my clothes and take a shower. The shower felt so good I ended up taking one everyday.
Each day was full of something different. Hiking until the trail was no longer, reading a book in my hammock and most fun…watching the clumsy California Newt (Taricha torosa). These guys provided me hours worth of entertainment. I held one in my hand…little did I know how toxic they are. Lesson…learned!
The California Newt's skin is lethal. It contains an alkaloid called tetrodotoxin. It is 10,000 times more toxic than cyanide. I read a true story about some Oregon campers. Somehow a Newt fell into their coffee pot and they unknowingly boiled it along with their coffee. They were found days later, deceased around their campfire. The only known predator for the mature newt is a garter snack…which I saw several while hiking here.
Interesting Information
I did some serious googling to learn more about this area. I am surprised at how little is written. Here is what I was able to glean from the Plumas National Forest Service and some other resources.
Description: The Middle Fork of the Feather River has been designated a Wild and Scenic River since 1968. It is divided into three zones: Wild, Scenic, and Recreation. Before its confluence with the Middle Fork of the Feather River, just downstream from Feather Falls, the Fall River descends from the northern Sierra.
Parts of this area were once inhabited by Maidu people and later by homesteaders. The presence of grinding rocks as well as occasional cultivated plant species is evidence that this area has long been utilized by humans.
How did Feather Falls get it's name?
Larry's Feather Falls site states the following:
"The Feather River was named, apparently, because one of the Spanish explorers saw bird feather floating in the stream. Why is Feather Falls named Feather Falls?…Even though it falls into the Feather River it is not the Feather River. It is on Fall River. My explanation of why it is called Feather Falls is the most obvious…It is shaped like a feather!"
Did you know millions of ladybugs can be seen all around Frey Creek in the winter months?
Frey Creek is a stopping point for migrating ladybugs. Their numbers are highest between November and March. They stay for the winter and then fly down to the valley in spring.down into the valley when spring comes.
Directions
From Oroville, take Oro Dam Boulevard to Olive Highway and turn right.  Take Olive Highway approximately five miles to Forbestown Road, turn right and go seven miles.  Turn left on Lumpkin Road, continue 12 miles to the trailhead turn off and turn left.  Go 1.5 miles to the parking area.  Camp units are located at the southwest side of the parking area; the Feather Falls trailhead is located on the northeast side of the parking area, adjacent to the restrooms.
Directions courtesy of Plumas National Forest Service
Author Profile
Retired military loving being Freee in the great outdoors!