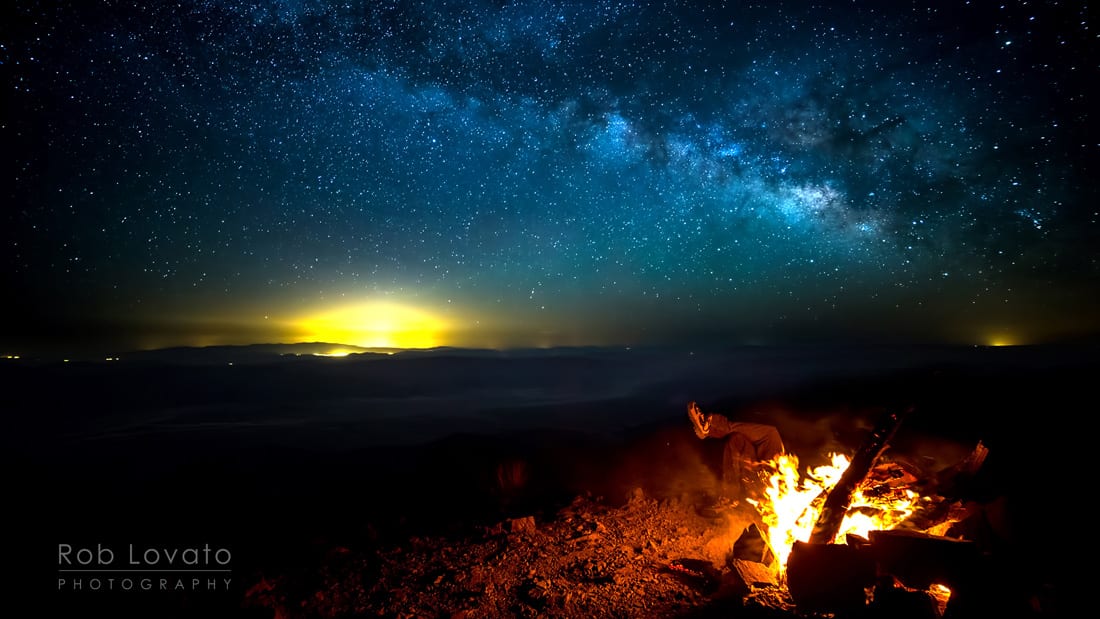 02 Jun

Telescope Peak

Telescope Peak My first hike with this group and OH what a challenge! Some in the group were preparing for a Mount Whitney accent. I didn't realize what I was getting myself into. I was not knowledgeable in climbing at higher altitudes either…my learning curve was real steep!
I had to live in the desert before I could understand the full value of grass in a green ditch. Ella Maillart
Use a high clearance 4X4
No Permits needed
14 Mile Round Trip
Difficult for Altititude
Telescope Peak…The Facts
Telescope Peak is the highest point within Death Valley National Park. It is also the highest point of the Panamint Range, and lies in the Inyo County. It reaches an altitude of 11,043 feet. In the United States it is the 55th of the 200 most topographically prominent mountain peaks. The mountain received its name due to the great distances visible at the peak.At the top of Telescope Peak you can see over 100 miles in any direction. Looking west you can see Mt. Whitney. Panning east you can see Charleston Peak and Badwater down below. Notably Badwater is the lowest point in North America, at 282 feet below sea level.
Getting Their
I didn't check the Death Valley National Park website before I left for Telescope Peak. I should have! The site has clear directions with alternate routes. On their website there is a big warning to NOT rely on the your GPS. How funny because…I found my GPS to be inadequate. Thankfully I had a current map in my truck. The road we were supposed to go down was closed. I cheated and went around the road closed sign anyway. After driving about 10 minutes another vehicle came from the opposite direction. I thought he had done the same thing and was turning back because…the road was closed. We both stopped and he asked if the road was passable behind us. I said yes and asked the same question of him. He told us if we drove slow and careful we could make it with my truck. I was thankful we could make it through because the alternate route would put us way behind schedule. Schedule over safety…excellent risk management…right! The road was completely washed out in areas and really was fun to drive on. You may have a four-wheel drive but I certainly recommend a high clearance 4X4.
Mahogany Flat Campground
The campsites are nice, some have a better view than others. The campsite is at 8,200 feet, has picnic tables and fire pits. There are 10 first come first serve no fee, no reservation campsites. They have no running water but they do have pit toilets. This campground is open between March and November. We had a nice view east. I hung my hammock and slept like a baby. For those who are just coming up for a day hike there are day hike parking spots as well.

Telescope Peak…The Hike
This 14 mile round trip hike I rate as…oh boy…difficult. Not for the technical aspects of the trail but because of the altitude. There is no water source on the trail or at camp so hydration planning is critical.  The trail is well marked and easy to follow. The entire trail is fully exposed to the elements, prepare for wind, sun, heat and cold. There maybe snow on the trail so bring appropriate gear. The trail starts at Mahogany Flat campground at 8,200 feet and you climb nearly 3,000 feet to 11,043 feet. It starts off slowly on the east side of the mountains. There is a really nice open saddle back area we stopped for a break. It was at the perfect spot for a rest. From here the trail winds its way up and over to the west side. There is a point where the trail splits off. Both trails end up at the same spot. The split to the right ascends upward but you end up going back down meeting the other trail. We stopped here for another break. I recommend you do not take the trail to the right. It is shorter…but you climb. On the final push up you will encounter switchbacks (until you think you are going to die)…I mean, until you reach the ridge. Just in sight of the peak there is a small patch of bushes on the west side of the trail. It is sort of like a cove and one of my hiker friends chose that spot to set up his camp…completely shielded from the wind. It was a nice spot. Passing his cove the peak is in sight and you simply climb the treeless ridge to the top. The views are breathtaking and it took a lot…I mean a lot of breaths to get there.
The Problem
Since this was my first mountain hike in a long time…or should I say at this stage in my life (older), I was not at all prepared. We planned on staying the night at the top. I brought a tent and there was no place to set it up…that will be 7 pounds of wasted weight and cardiac effort! I slept under the open sky for the first time since I was a kid. I used my fly cover as a windbreak and slept as high as possible. On the climb when I hit about 9,500 feet I began to experience altitude sickness. With my vast experience…noob! I didn't know what was wrong. I felt nauseous, began throwing up, and I had difficulty catching my breath. I could only take 20 steps before I had to stop. I quickly consumed almost all my water. Thankfully there was snow so I could get more…on top. I took some Ibuprofen, took many breaks and slowly made it to the top. I was only 2 hours behind my group…they were kind enough to say they didn't notice. This was a lesson well learned as I am now preparing for the John Muir Trail. After I reached the top, within a few hours my symptoms started to fade. Actually, I'm not sure if my symptoms faded or the view just overwhelmed them. I never felt 100% until I went back down to about 9,000 feet.
Telescope Peak Experience
The view from the top of Telescope Peak was like something I've never seen. The sky at night was free of most light pollution.  You could see Las Vegas in the distance and cars driving through the valley. Sitting on top of the "world" at night was magical. We watched a brilliant sunset and sunrise. As you would expect the night air was pretty cold but we had a fire that knocked the chill out of the air. I loved looking down the mountain to the desert floor mesmerized by the contrasting images. This was an experience I will not forget. Nearly a 360 view and I felt like I was on top of the world…or at least on top of the desert. There was a metal box at the top with a hikers log in it.  It was fun looking through to see the messages and names of those before us. After the hike was over, I met an elderly man who asked me about my hike. I told him how it went and then he asked if there was a ammo can up there with a log book in it. I said yes and that I put my name in the book. He chuckled and said…I put that up there XX years ago…ha ha ha…and it's still there. (XX = I can't remember what he said) Imagine that…I met the guy who put the ammo can up there.
Telescope Peak had very few places to sleep for the night. Some spots were really exposed to the wind and as soon as the sun went down…burrr. Thankfully I brought the right amount of clothes for this trip. I wore everything I had to bed. I love my Big Agnes sleeping bag. 
I enjoyed the group I hiked with and met some really good people…they shared my affection for the outdoors and exploring. Some had a vast repertoire of places they've explored. I look forward to going on future trips with them. I met Rob Lavato on this trip. He is a quiet and humble man. He carried a lot of equipment up Telescope Peak and his goal was to capture the experience with his camera. Only after this trip did I realize how good a photographer he was. Rob, thank you for letting me use a few of your shots on my site.
You can find more of his  Rob's work on Telescope Peak and other projects at http://www.thirdeyespiral.com/  He just announced a new project he is tackling…checkout his craftsmanship at http://www.deepsur.us/   Rob, again, thanks for letting me use some of your pictures!
A Panoramic Video From My Sleeping Bag
A Pleasant Surprise
Heading to and from Telescope Peak campground…Mahogany Flats, we came upon these funny looking beehive looking structures. We stopped and took some pictures and learned exactly what they were. The 10 structures are the Wildrose Charcoal Kilns. The acoustics inside astounded my ears.
The following is from the Death Valley NPS Websight:
The Wildrose Charcoal Kilns were completed in 1877 by the Modock Consolidated Mining Company to provide a source of fuel suitable for use in two smelters adjacent to their group of lead-silver mines in the Argus Range west of Panamint Valley, about 25 miles distant from the kilns. Although the mines themselves were worked intermittently until about 1900, there is no clear evidence that the charcoal kilns were operational after 1879. Evidently either other fuel sources were located or it was found to be more profitable to ship the raw ore elsewhere for processing. This short life may help to explain the remarkably good condition of these kilns, more than 100 years after their construction.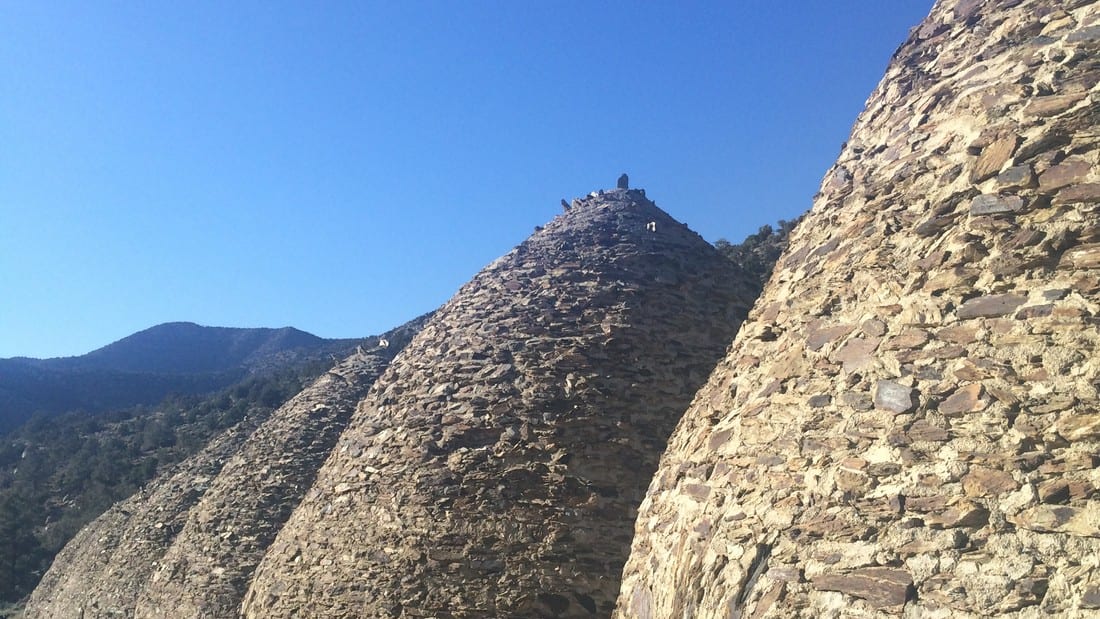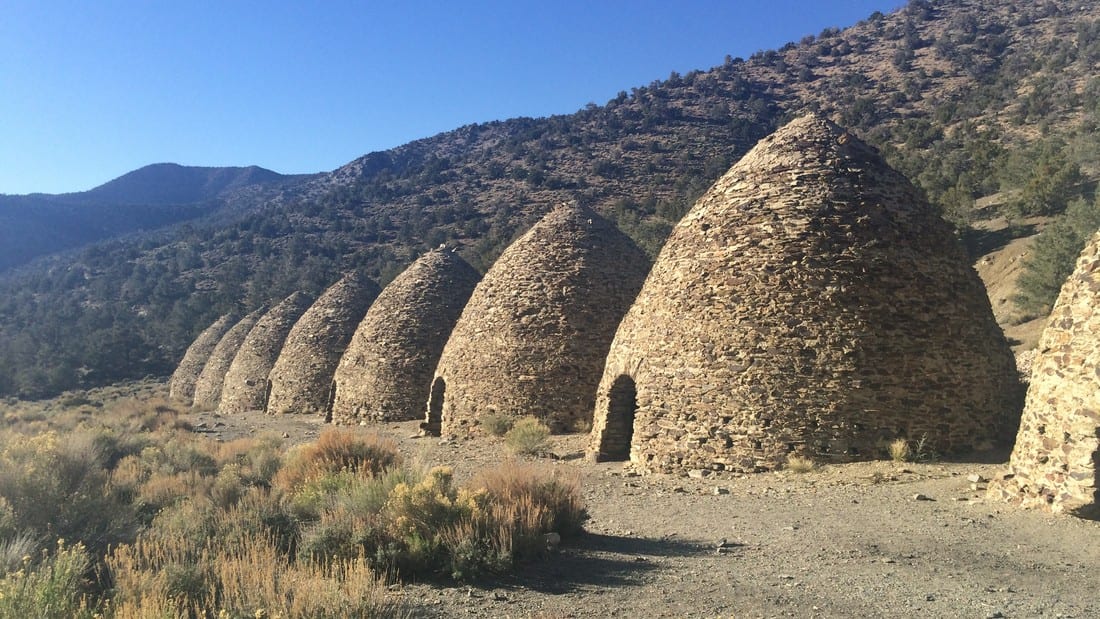 Some of things I loved about this trip:
Meeting new people with a like mind about the outdoors
How beautiful Death Valley is
Seeing how time can truly stand still in some places
Author Profile
Retired military loving being Freee in the great outdoors!